In order to execute a successful integrated mosquito management program, mosquito surveillance is key. Through a mosquito surveillance program, entomologists are able to identify species composition, population dynamics, and the threat of dangerous mosquito-borne diseases. This information helps decision-makers choose the most effective management approach to control mosquitoes and protect community members in their area.
Adult mosquito surveillance is conducted in areas that have historically produced mosquito populations of a nuisance and/or public health concern or in novel areas in response to natural disasters like flash floods and hurricanes. Adult mosquito surveillance programs are accomplished through the use of specialized mosquito surveillance traps that are strategically placed throughout a given area. Mosquito surveillance traps are selected and placed based on mosquito concentrations, activity periods, and habitat characteristics like climate, wind, weather, and time of year. 
Trapped mosquitoes are then taken back to a laboratory for scientific examination, which involves species identification and counting. While some areas are primarily impacted by a single mosquito species, others may be home to vast and diverse populations. Entomologists study physical markers like colors and patterns of scales, setea, spines, and other features to distinguish between the 175+ species found in North America. Examinations also include disease testing. Different mosquito species are known for carrying specific pathogens such as West Nile virus (WNv), Malaria, Eastern Equine Encephalitis, Dengue Fever, Yellow Fever, Zika Virus, and Chikungunya.

Armed with this knowledge, entomologists can determine the severity of an outbreak and respond with the most effective management solutions based on the habits and characteristics of the target species. Often, experts utilize either truck-mounted sprayers, drone technology, or aerial fleets to apply adulticides at the proper rate and product droplet size. During this process, GPS technology is used to ensure safe and even distribution across large areas.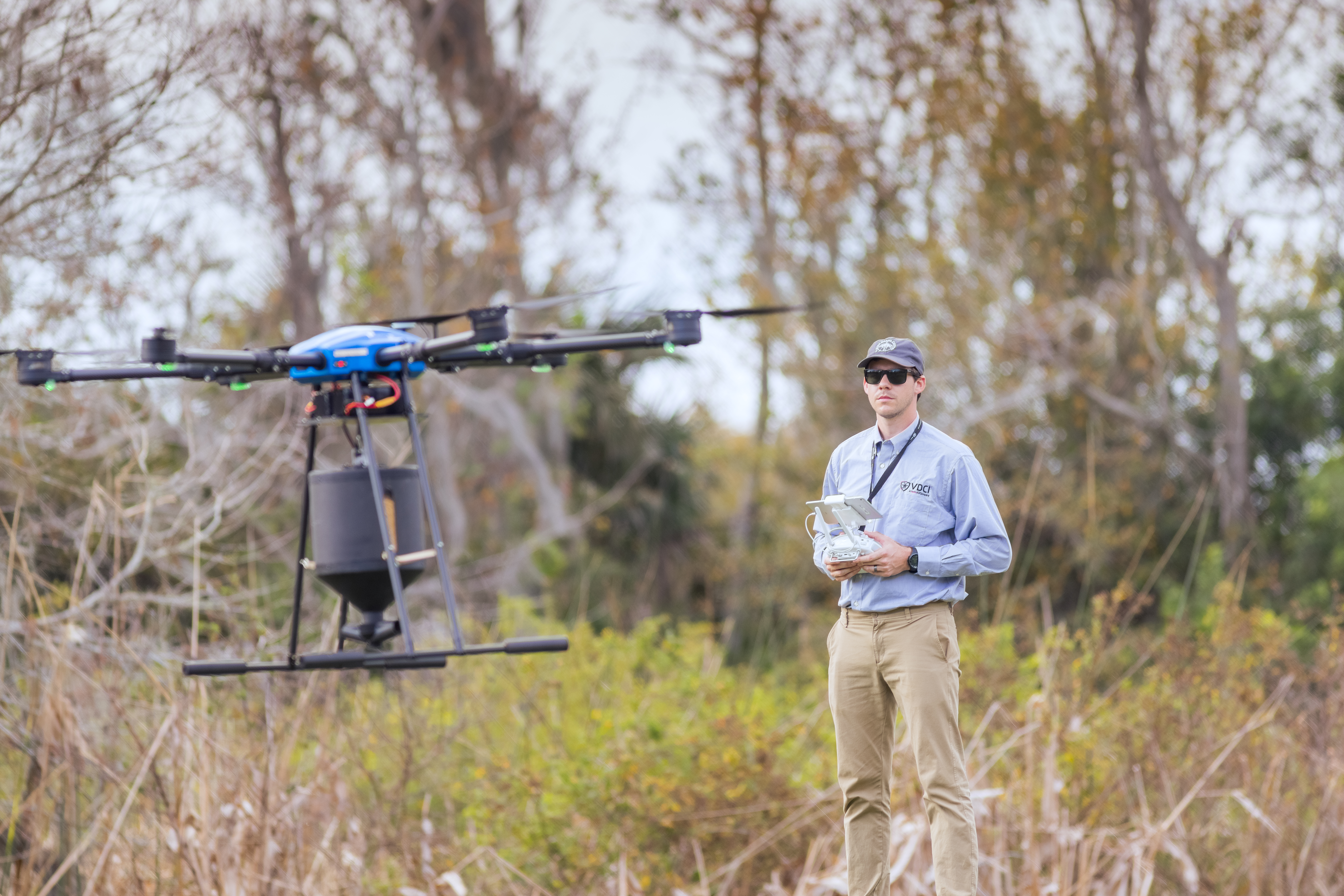 These mosquito elimination efforts are most effective when conducted as part of a customized Integrated Mosquito Management (IMM) program. And a vital component of any IMM program is mosquito surveillance conducted with specialized mosquito surveillance equipment. IMM programs use a comprehensive toolbox of solutions to target mosquito populations and proactively prevent them. These programs typically require coordination between many different stakeholders, municipal entities, and public education providers. They may also evolve significantly over time in response to species population surges and possible insecticide resistance. 
Ultimately, no matter what kinds of challenges a community faces, consistent surveillance and disease monitoring serve as the foundation of their management efforts. Discover how our team can support an existing program through mosquito surveillance or help you develop a custom program to meet your community's needs by contacting our mosquito experts or calling us at 800-413-4445.
VDCI Wants To Make Your Property Safer.
How Can We Help?
Fill out the information below, and one of our mosquito surveillance experts will follow up with you.
Since 1992, Vector Disease Control International (VDCI) has taken pride in providing municipalities, mosquito abatement districts, industrial sites, planned communities, homeowners associations, and golf courses with the tools they need to run effective mosquito control programs. We are determined to protect the public health of the communities in which we operate. Our mosquito control professionals have over 100 years of combined experience in the field of public health, specifically vector disease control. We strive to provide the most effective and scientifically sound mosquito surveillance and control programs possible based on an Integrated Mosquito Management approach recommended by the American Mosquito Control Association (AMCA) and Centers for Disease Control and Prevention (CDC). VDCI is the only company in the country that can manage all aspects of an integrated mosquito management program, from surveillance to disease testing to aerial application in emergency situations.